About us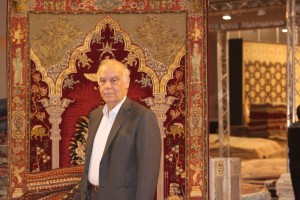 The company's history goes back to the young Vani finite creative powers of Mohammad Reza Vani, who at a young age his father assisted in the bazaar of Tehran. Already at the early age of 13 years, Mohammad Reza was on her own. His father passed away. He remained loyal to his father's business and built the company over the years to continue.
The early eighties, Mr. Vani decided to relocate its headquarters from Tehran to Hamburg. Quickly recognized its local customers zeal and passion for rugs: the cornerstone of the success of the company Vani. In the beginning was the focus of only the highest quality and finest carpets of Iran: Silk Qom, Tabriz, Isfahan, Nain 6LA and many other provenances.
Today, the company of his children besides Mr. Vani Nahid and Amir and operated. Since 1995, Mr. Madjid Shaida Vani worked in the team of the company and is responsible for customer service among others.
Vani is the flagship company of the fair market offer carpets. Today, alongside the finest knotted carpets from Iran, also an extensive range of rugs from India and Pakistan, including Kashmir silk carpets, Farahan Ziegler, Aubusson rugs and modern conducted in all popular sizes.
Alongside one's name is Vani wide variety of oversized rugs and runners from different countries of origin long. Up to date and well sorted.
Or you can leave customers' needs, such as special order (special size) assumed.